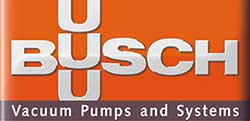 Busch
Busch Vacuum Pumps and Systems is one of the largest manufacturers of vacuum pumps, blowers and compressors in the world. Their products are at the forefront of vacuum and low pressure technology.

The Busch product range offers a wide selection of industrial vacuum pumps. They offer more than 50 years of experience and expertise in vacuum system manufacturing, and can provide customized solutions for a variety of vacuum applications.

Busch products are available with a variety of options and advanced design features to match a diverse range of applications, so customers benefit from the most appropriate and cost-effective solutions. They constantly evaluate their operation in order to maintain the highest standards, and continue to develop innovative technologies that will define the future of vacuum system applications.