Grundfos
As a trusted Grundfos distributor, Blackhawk Equipment sells, designs and installs all types of Grundfos industrial fluid pump packages. Grundfos is a full-line supplier of reliable fluid pumps and robust service offerings for both process applications, including chemicals, automotive, mining, oil & gas, food, beverage, pharmaceutical, and power. Most refinement and manufacturing operations that require the processing of liquids and liquid-like fluids use fluid or centrifugal pumps and Grundfos has proven itself to Blackhawk customers time and time again.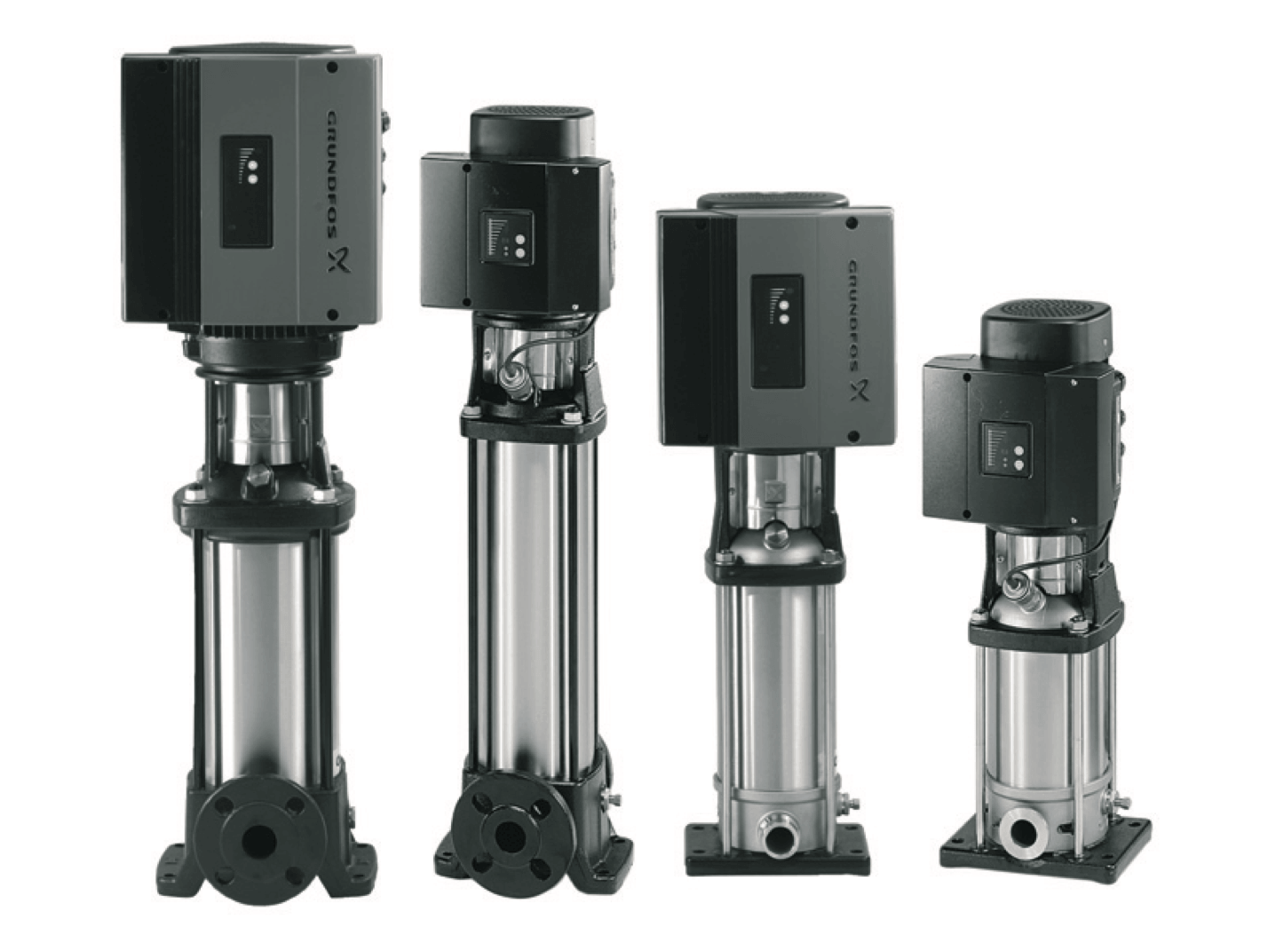 Grundfos pumps will meet your exact requirements. Grundfos fluid pumps can be used for:
Water supply
Wastewater treatment
Boiler, cooling and thermal control
Pressure boosting
Washing and cleaning
Food and beverages
Grundfos has one of the broadest pump lines for process and industrial applications across Colorado and the US. With the support of Blackhawk's technical team, these fluid pumps will meet your exact requirements and are also versatile to cover multiple kinds of fluid pumping applications in the field. Grundfos fluid pumps are available in most machinable alloys and non-metallic materials of construction for various fluid types. Today Grundfos provides comprehensive, cross-continental coverage through a number of marquee product brands, some with roots going back a century or more. Together, Grundfos, PACO, Peerless Pump, LaBour Taber and YCC provide a complete portfolio of fluid pumps and other products for the North American industrial market.
How can you apply Grundfos fluid pumps in your business?
Grundfos fluid pumps will keep your business' production running smoothly 24/7. Whether you are dealing with corrosive, toxic, or abrasive process liquids, Blackhawks' years of experience together with Grundfos fluid pumps create a power team that will save your business time, money, and energy. Call Blackhawk Equipment or visit the Grundfos US Website for detailed specs and product groups.
Grundfos Fluid Pumps for Boilers
Grundfos' thoroughly tested, variable frequency drive pumps optimize the boiler feed process for your business. Blackhawk Equipment designs and manufactures packaged boiler systems and plants for optimal temperature regulation across the entire system. Our boiler solutions incorporate Grundfos energy-efficient pumping systems, a variety of boiler technologies, and condensate return water systems for fully integrated modular plants. These pumping solutions are perfect for systems with poor inlet conditions. This ensures cavitation-free operation even outside the fluid pump´s normal duty range. Grundfos' air-cooled top shaft seal solution eliminates the need for external cooling in high-temperature applications, making it the best choice for Blackhawk customers across Colorado and the United States.
Grundfos Cooling & Thermal Pumps
Grundfos fluid pumps can be used to meet all your business' cooling, heating, water-borne, and other fluid material needs. Fluid pumps for high-temperature applications can also be customized by our experienced Blackhawk sales team. All Grundfos fluid pumps can be supplied with variable frequency drive motors, offering major dimensioning and energy saving advantages. The Grundfos VL/VLS Inline pumps have proven to be extremely versatile, often exceeding the requirements for a variety of market applications, such as chilled water, condenser water, and hot water systems.
Grundfos Pumps for Food and Beverage
Grundfos fluid pumps give you precision engineering and optimal compatibility for every imaginable pump application in food processing and manufacturing. From brewing and baby formula to ice cream and tomato sauce, a large assortment of fluid pumps help refine food and various liquids for every stage in a product's creation. With their stable temperature control and process control features, we highly recommend Grundfos pumps. Blackhawk can even help you determine the best product for improving the speed and flow of your ingredients for better production and cost savings.
Grundfos Pumps for Pressure Boosting
Grundfos fluid pumps offer fully integrated, all-in-one packaged systems and are designed to meet changing capacity requirements with optimal efficiency. Blackhawk Equipment recommends Grundfos high pressure pumps to ensure ultimate performance in any fluid pressure-boosting application. One of the most common Grundfos pumps is the basic CR pump which is available in four different materials:
Cast iron
Two grades of stainless steel
All-titanium
The CRE pump is a CR pump, motor and integrated variable frequency drive.
Grundfos Pumps for Washing & Cleaning
Grundfos offers fluid pump solutions with a wide temperature range and suitable for the pumping of corrosive media. Grundfos' reliable, compact pumps are ideal for washing and cleaning applications for this reason. High efficiency, smart motors perfectly control the process with low energy consumption. Blackhawk Equipment recommends over 27 different Grundfos fluid pumps and accessories to complete any industrial application you need. Rest assured knowing that Grundfos products together with the technical sales team at Blackhawk will deliver the highest quality, most cost-effective solution for your business.
Grundfos Water & Wastewater Treatment Pumps
For water distribution and wastewater treatment applications such as site-wide fluids distribution, local water stations, water towers and water pressure boosting, Grundfos offers a wide range of fluid pump solutions, including:
Boosting pumps
Dosing & disinfection
End-suction pumps
Pump systems
Split case pumps
Inline pumps
Vertical turbine pumps
Controls & monitoring
Sewage pumps
Our comprehensive range of Grundfos pump solutions covers:
Inlet Primary treatment
Chemical treatment
Biological treatment
Tertiary treatment
Sludge treatment
Equalization
Not sure which Grundfos fluid pumps are right for your business needs? We got you!
Blackhawk's experienced technical sales team can help you to decide the optimal fluid pump solution that is perfect for your business.