Extraction Industry
Blackhawk Equipment provides air compression equipment for use inside the highly-regulated and expanding cannabis industry for extracting the chemicals and oil. Cannabis products and applications are now used for a wide range of medical uses and consumer products ranging from food edibles and essential oils to beverages and lotions. Blackhawk Equipment has partnered with ExtractionTek to provide compressed air systems that run a Haskell extraction unit. A typical Haskell operation requires up to 29 SCFM of clean and reliable compressed air.
Because of the many legal and safety issues surrounding consumer products and food/beverages, especially inside the cannabis space, it is vital that your compressed air be clean. Compressed air systems are not clean by nature. Solids and harmful particles in various concentrations are present almost everywhere in the form of dust.
Also, water is a natural part of air as a form of atmospheric humidity and is released in large quantities when compressed air cools down. These oils, vapors and particles can impact the quality and taste of the cannabis product as well as introduce quality control issues for consistency. Compressed air quality in accordance with the requirements of your extraction process and methods provides the best possible safety for consumers and your business.
Our extraction customers who have a need to run the Haskel recovery pump for extraction are frequently faced with the task of selecting, installing and operating a compressed air system for the first time.
Air Compressors for Cannabis Extraction 101
What kind of compressor do I need?
The difference between reciprocating air compressors and rotary screw machines is expansive. A more simple answer is that a typical reciprocating compressor, like you may see at the hardware store, is designed for intermittent use. If the compressor is run in constant duty, the pump will quickly wear out. In contrast, a rotary screw compressor is designed for constant duty and operates best in constant duty. A rotary screw compressor like the Sullair ST15 is best for a Haskel assisted recovery.
Reliable Sullair Air End
Sound Enclosure
Reduces sound levels to as low as 66 dBA
Easy Separator Maintenance
Simply unbolt the cover and lift it off
Fluid and Cooler(s)
Easy access for maintenance
Heavy Duty Air Filter
Protects key components from premature failure
Control Panel
Integrated full-voltage starter
ST Controller

Matches output to demand
Clear and concise graphic display
Monitors status of key operating parameters
Dryer
• Includes refrigerated dryer and pre-filter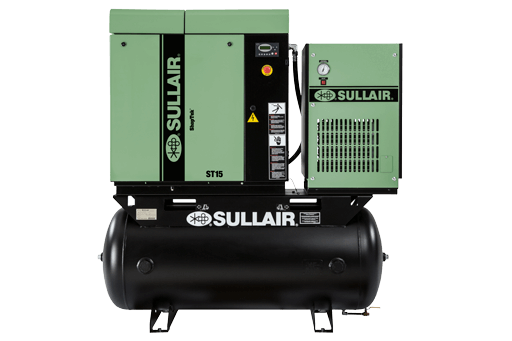 What size compressor do I need?
The Haskel requires 24-30 SCFM to run. Compressors are rated in ACFM, and get de-rated by about 20% in extreme elevations such as Denver, Colorado. A Sullair Shoptek 10HP compressor may be capable of producing 36 SCFM at sea level or 29 SCFM in Denver. We have found that this can easily run a single Haskel. While a 15HP compressor can run two Haskel pumps at sea level, we typically recommend the Sullair 20hp Shoptek to be safe.
Where should I install the compressor?
Many considerations should be made during installation. Consulting with Blackhawk Equipment as your compressed air provider is very important. Key considerations are:
Heat Load - A 10hp compressor will produce almost 30,000BTU/hr in the form of hot air blown off the top of the compressor. The most effective way to deal with this heat load is to directly duct the air out of the building.
Sound - The Sullair Shoptek 10HP is very quiet at 69dBA, so it is plenty quiet for indoor applications.
Environment - In areas that experience freezing temps, the compressed air system should be installed indoors, however if indoor space is impossible, outdoor installations are possible with outdoor buildings. Before any outdoor building is built for a compressor, you should talk with Blackhawk Equipment who builds custom air packages for meeting building code requirements.
Does an air compressor require maintenance?
Like all rotating mechanical equipment, an air compressor does require maintenance. The Sullair air compressors require service every 2,000 hours of operation. Maintenance is relatively simple and can be completed by a competent mechanic or Blackhawk can create a customized maintenance program for your needs.
What kind of piping do I need for the air lines?
The three most common types of compressed air piping are:
Black Iron - Material is cheap, but it is very difficult to install. The inside of the pipe can corrode and pass rust and debris downstream. Modifications after the fact can be extremely difficult.
Copper – Does not corrode, is lightweight material is readily available. Installing copper requires a high level of skill and material can be very expensive.
Aluminum - The Infinity aluminum pipe system is very easy to install and modifications are simple. Aluminum is also very clean, does not corrode, and is a lightweight. Aluminum is recommended.
What power is required?
Ideally 3 phase 230V/208V electrical power for any air compressor is recommended. However, the 10hp ShopTek is now available in single phase at near the same price. Tech data sheets should always be provided to your electrician so that proper wire and breaker sizing is provided.
Conclusion
Compressed air is a vital part of any manufacturing process and cannabis processing is no different. Cannabis extraction will always be highly scrutinized and so having the best compressed air solution eliminates bad variables and keeps your operation moving efficiently and safely. Getting the right set up will prevent future headaches and issues down the line. Give Blackhawk Equipment a call for your optimum cannabis extraction solution.