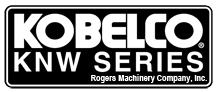 Kobelco
Rogers Machinery Company, is the premier manufacturer, packager, and supplier of the KOBELCO KNW Series– An oil-free, rotary screw air compressor series of products made in North America. They proudly provide the highest quality, oil-free, risk-free air compressors on the market today.
Kobelco KNW Series compressors are designed, assembled, manufactured and tested in the USA by Rogers Machinery Company.
Over 65 years of field experience in all industries has proven that the KOBELCO KNW Series rotary screw design is a preferred choice for reliability, energy efficiency and serviceability.
The Kobelco KNW Series can be custom built to your specifications and are also available as a standard design package. They provide nationwide parts and service support through our authorized distributor network.